West Bengal Higher Secondary Bengali MCQ & Short Questions Suggestion Download. Practice HS Bengali Short Questions Online free mock test. West Bengal Higher Secondary Exam Online Practice Test of MCQ questions. Learn more about the HS Bengali question pattern and new syllabus. West Bengal Council of Higher Secondary Education HS Bengali Short Questions Suggestion.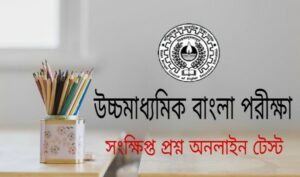 If you are searching for West Bengal Higher Secondary Bengali MCQ and Short questions Online Practice questions paper, then you are in the right place. On West Bengal Higher Secondary Examination Bengali is the First Language for many students. The total written marks for Bengali Subject is 80 and total time allowed 3 hours and 15 minutes.
Read More, Click Here to Download West Bengal HS 2019 Bengali Suggestion.
The question paper of West Bengal HS Bengali subject contains two groups, Group-A (50 Marks) will contain descriptive type questions, essay writing etc and Group-B (30 Marks) will contain MCQ and very short answer type questions of 1 mark each.
Let's take a look on the new and updated syllabus of West Bengal Higher Secondary Bengali Subject.
| | |
| --- | --- |
| গল্প | কে বাঁচায় কে বাঁচে, ভাত, ভারতবর্ষ |
| কবিতা | রূপনারায়নের কূলে, শিকার, মহুয়ার দেশে, আমি দেখি, ক্রন্দনরতা জননীর পাশে |
| নাটক | বিভব, নানা রঙের দিন |
| আন্তর্জাতিক কবিতা/ভারতীয় গল্প | পড়তে জানে এমন এক মজুরের প্রশ্ন, অলৌকিক |
| বাংলা শিল্প, সাহিত্য ও সংস্কৃতি | বাংলা গানের ধারা, বাংলা চিত্রকলা, বাংলা চলচ্চিত্র, বাঙালির বিজ্ঞান চর্চা, বাংলা ক্রিড়া সংস্কৃতি |
| ভাষা | ভাষাবিজ্ঞান ও তার শাখা প্রশাখা, ধ্বনিতত্ত্ব, রূপতত্ত্ব, বাক্যতত্ত্ব, শব্দার্থতত্ত্ব |
This is the complete syllabus for Uchha Madhyamik Bengla subject. On this page, we published 20 HS Bengali MCQ questions. The questions were prepared on the basis of the current question pattern. Practice HS Bengali MCQ Online Mock Test.
HS Bengali MCQ Test
West Bengal HS Bengali MCQ Test. WBCHSE Bengali Subject Online Mock Test with important questions and answers. Check your preparation for West Bengal Higher Secondary Exam.
Bengali is the first language for maximum students on Higher Secondary Examination. This HS Bengali MCQ online Mock Test will help them to check the preparation and also the type of questions. All the questions on this test are important for Board Examination.
Read More, Click Here to get HS 2020 All Subjects MCQ and Short Questions Online Test.
If you have any query please post it in the below comment box. We will definitely try to resolve it in your favour. For keep update with us, like us our WebExam Facebook Page. Share this post with your friends on social media.